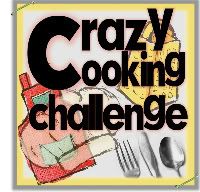 If you've never heard of the Crazy Cooking Challenge, please click on the logo above. I discovered it a few weeks ago and couldn't wait to participate! This month, we're asked to make Mashed Potatoes and I chose
this
recipe from Fearless Kitchen that adds horseradish to the mix. I served it with some
Pork Chops in Champagne Sauce
inspired by Robin Miller. To jazz it up though, I also added chopped apples and mushrooms. We really enjoyed every last bite and I can't wait until the next challenge!
Horseradish Mashed Potatoes
3 lbs new potatoes, skins on
1/2 c cream
4 oz horseradish cheddar cheese, grated
Prep:
1. Chop the potatoes into bite-size pieces. Add to saucepan and cover with cold water. Bring to a boil over high heat. Boil until the potatoes are tender, 15 minutes.
2. Drain the potatoes and immediately return them to the hot pan. Add the horseradish cheddar and cream. Sse a masher to mash the potatoes to desired texture.